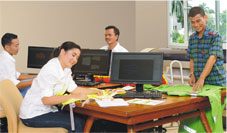 Team Work" has been our motto since our establishment in 1987. Routine trainings, technology advancement and top notch facilities fhave inspired our team to create our vision ad mission :
Vision
To be a world class garment manufacturing company that is environmentally friendly,economically feasible, employee wellbeing and socially conscious.
Mision
1. To produce high quality products with competitive pricing.
2. To view customer satisfaction as priority.
3. To increase productivity whilst minimizing carbon foot print.
4. To prioritize employee safety and welfare.
5. To build a good kinship with society.